We had a year to sort out and get ready for moving out…. but you know what it's like. After the initial enthusiasm of putting the house on the market things start to drag… and then when you haven't sold you lose enthusiasm for it.
What this did mean is that when we were actually due to move we had a bit of a mad rush to do the last bit of de-cluttering, sort the sheds, re-home a chicken (yes, really !) and take things to the tip and charity shops.
The day that lockdown was announced I just had this awful feeling in the pit of my stomach. If you can imagine the nerves you can get on the start line of the hardest race you have ever attempted…. with that feeling not leaving you is the best way I can describe it.
The Charity shops and tip were closed (something to do with a global pandemic !!) so I had to try and find a rubbish removal company that were still working (one with a yard that weren't just going to fly-tip it somewhere..) and work out what to do with everything else.
I also had the legal side to deal with, were we still allowed to move ? were the removal companies still allowed to work ? were the ferry companies still accepting lorries to the Isle of Wight ?? What would happen if one of us became ill with Covid-19 ??
The contracts side of it started to get a bit more complicated with added clauses to allow some flexibility and I did have a few heated discussions with our solicitor who, in all fairness, was just trying to protect us from some of the risks. But, at the end of the day, we were aware of the financial risks involved and we did still want to proceed with the sale.
We ended up giving quite a bit away and leaving some bits behind but we still had more than we had originally anticipated to go in to storage.
I will write a separate blog post all about de-cluttering, it really is harder than you first think !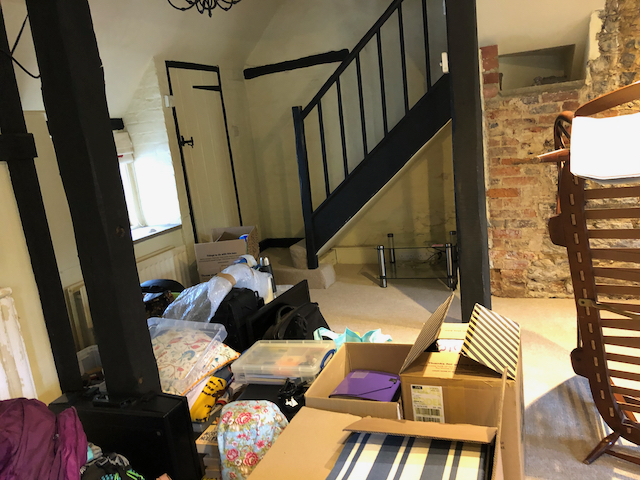 The other minor technicality was that we still had no-where to move to. Our plan had been to live in our caravan for a couple of weeks on a campsite near the narrowboat brokers and go and look at boats but all campsites were now closed.
I tried phoning all the local sites that I knew to see if I could find somewhere that would take us, the caravan was going to be our only home, but no-where was accepting anyone.
Luckily for us Emma at our local pub (The Star Inn, Steyning) had said if we were really stuck we could always stay in their car park….
The estate agent that was handling our sale furloughed all their staff and we were left with a mobile number of a regional manager…
At the same time as all this was going on we had the "normal" stresses of a house move. I cannot put in to words the feelings that go through you and I certainly wasn't sleeping much.
But, on the 8th April 2020, we moved out of the house that had been our home for the last 27 years and in to our caravan in a pub car park……