Since my last hiking trip I've changed a few items of kit (and bought a new MSR Hubba NX tent !) so I thought before my next trip I should test it all out.
The plan was for a 10-12 mile walk on the first day, an overnight camp and then a shorter walk hole the next day. Because the purpose of this trip was to test kit I decided to stay relatively close to home and booked a pitch at the YHA on Truleigh Hill (yes, at 51 I'm now actually a YHA member !!!)
The main items of kit changed:
Backpack – Osprey Eja 48 – 1200g
Tent – MSR Hubba NX & footprint – 1223g
Sleeping Mat – Thermarest Neoair XLite (small) – 230g
Sleeping Bag – Rab Neutrino 400 (Womens) – 861g
The main reasons for these are weight and warmth…. My OMM sleeping bag is great in the summer but even then I often ended up wearing multiple layers at night so I thought it was worth investing in a decent down sleeping bag.
The tent allows me to sit up properly, has a bigger porch area, multiple pitching options and also weighs less.
The Thermarest sleeping mat has a reflective surface built in to it and is substantially warmer than my Alpkit Cloudbase and is also half the weight. It does mean that my feet are off the end of it though…
MSR Hubba NX tent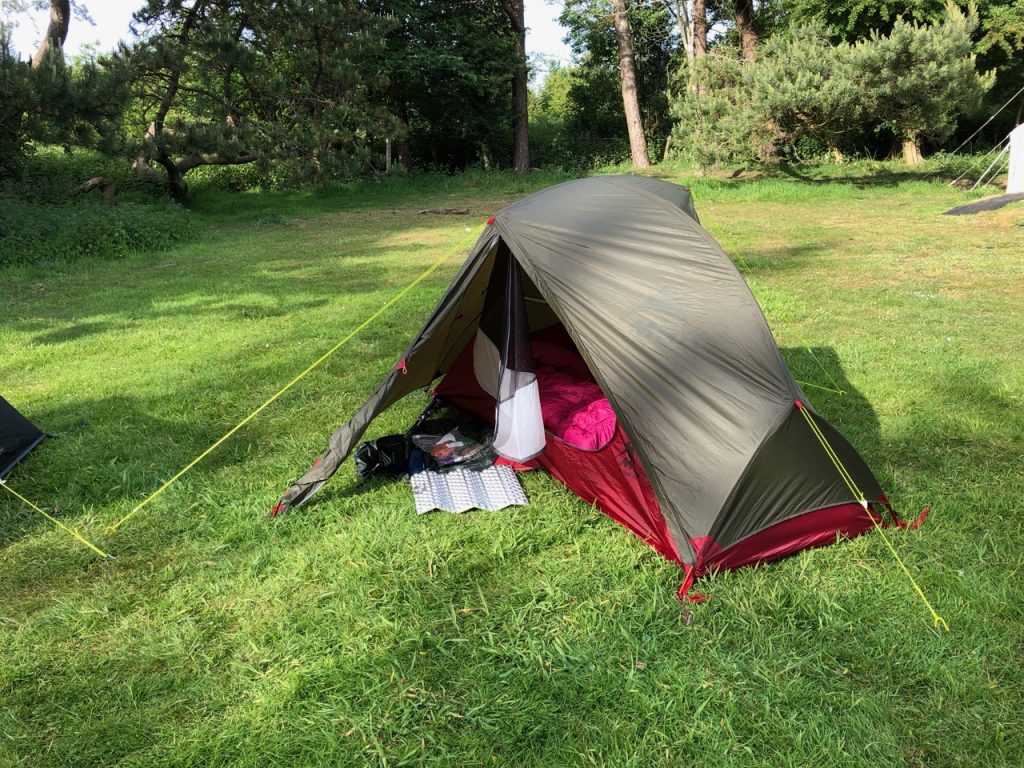 The tent was easy to pitch and up in a matter of minutes. I've changed the guylines on it for high viz dyneema with glow in the dark mini lok runners. Hopefully this will minimise the number of times I trip over my guylines and make it easier to spot my tent in the dark….
I've rigged the rear guyline slightly differently so it incorporates the bottom guy point as well (this really should have something fitted as standard !!) and both points are pegged out and tensioned on a single line with a single peg.
Another thing I did was to leave the MSR pegs at home and take my lightweight titanium ones with me. I also ditched the tent bag for my Lightwave cuben fibre bag. These save a couple of hundred grams off the total weight of the tent. I know it doesn't sound much but when you start to add up these small savings it really does make a huge difference. Hopefully this means that you can afford to carry that additional luxury item…. in my case a warmer sleeping bag !
Another thing I experimented with was washing various items of clothing to see how quickly they dried out overnight on a "normal" night in the UK rather in bright sunlight. I was impressed with the Craghoppers shirt that I bought. It wasn't quite dripping when I went to bed and was just about dry enough to wear the next morning. My choice of knickers though will need to change ! – more on this in another post…
Conclusions
So, all in all it went well. I've changed the packing order of my backpack slightly so things fit in better. The tent poles are substantially longer than my old tent so these are now in an outside pocket. I also have the luxury of a sitting mat as well (it will double up at night under my feet…) I will make a specific video showing all the different ways of pitching the tent; it can be pitched fly first if it is raining ! But for now, I think I'm sorted and in just over a weeks time I'll be heading for the mountains 🙂