I've been a bit behind with my blogging recently and realised I haven't written anything about the Three Peaks Challenge.
This was one of the best and worst of my experiences so far. I always find that I learn something about myself each time I challenge myself and this was no exception. I had organised a group of 10 for this challenge and the organising everyone beforehand did prove to be hard work at times !
Anyway, we flew up to Glasgow and spent the night at the Premier Inn. I didn't know it at the time but the Premier Inn breakfast that I had the following morning was the last food I'd eat until the challenge was over……
Scotland really is beautiful and I would love to go back and spend some time exploring the area and head back up Ben Nevis at a more leisurely pace.
The weather wasn't brilliant and unfortunately I didn't get to see any view from any of the Three Peaks.
We were picked up by minibus from Glasgow on the Friday morning and headed up to Fort William to stock up on food and drink for the challenge. Driving up through Scotland reminded me how beautiful it is and I really would like to come back and spend a bit more time there.
My Osprey pack packed with everything I'd need for the trip 🙂
Millie thought that if she stayed by my pack she could come to…. I did miss her !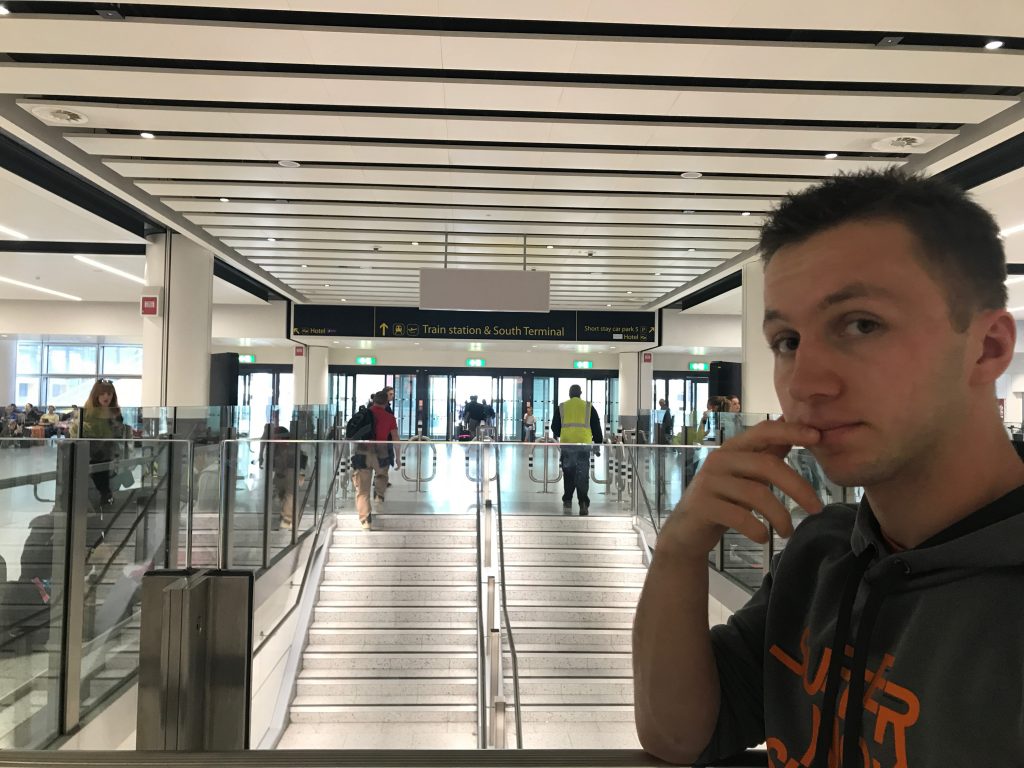 Waiting at Gatwick for everyone else to arrive…
We started Ben Nevis early afternoon. The plan was to be driving out of Scotland when the holiday/rush hour traffic was gone so we wouldn't get stuck in traffic. We started Ben Nevis in shirts but had to switch to full wet weather gear on the way up, it reminded me quite how quickly the weather on a mountain can change. I was using my Garmin Fenix 5s to track the time (and route!) that we followed.
On the way to Ben Nevis I realised just how travel sick the minibus was making me feel and I found that I couldn't eat anything and could only sip water…. I tried to keep my eyes closed and tried to sleep hoping that would make me feel better…. the thought of another 10 hours of this was quite daunting.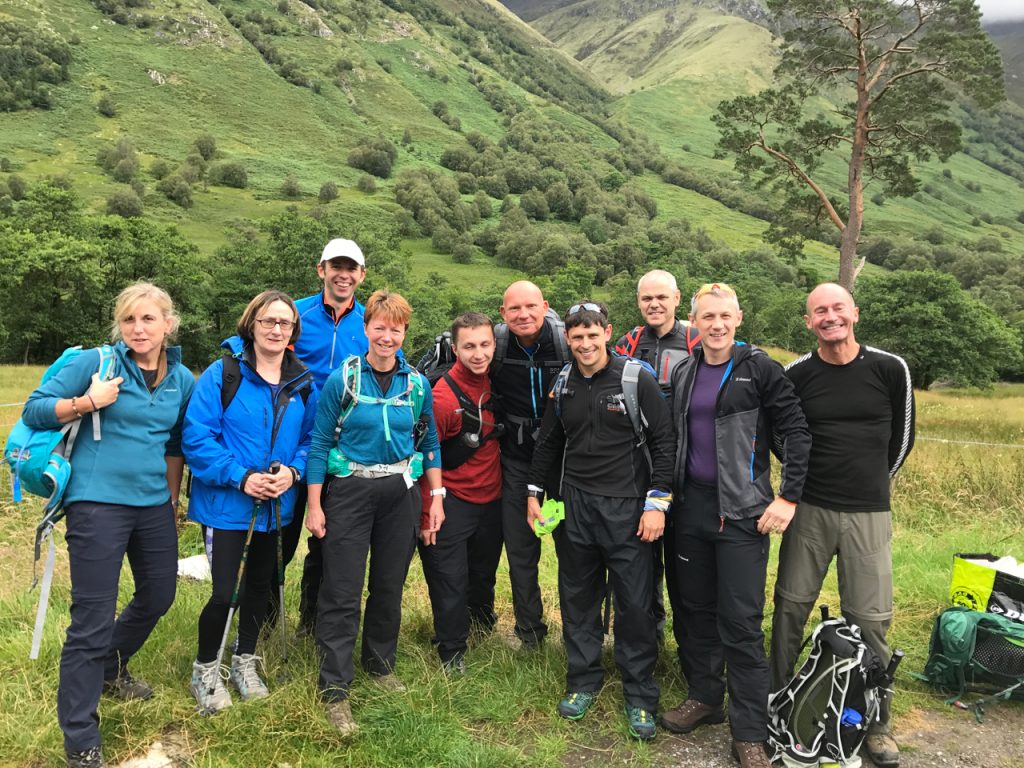 At the top of Ben Nevis you can see how we needed the waterproofs (and the wonderful view !)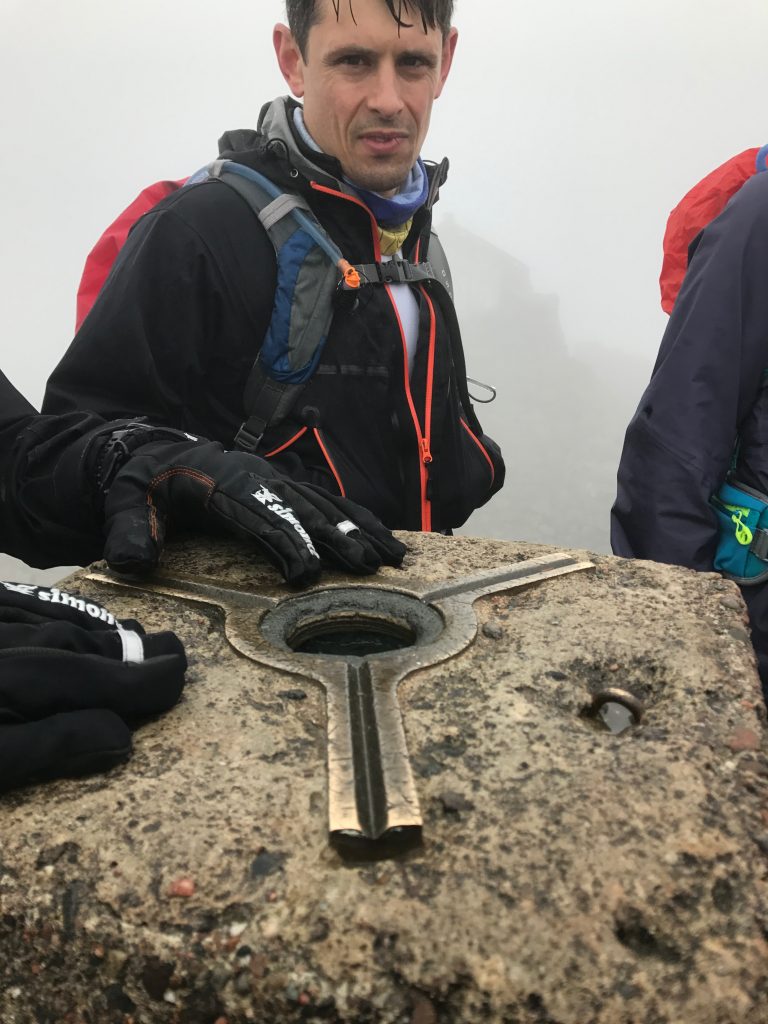 Scafell Pike has to be one of the scariest experiences of my life. The first section was fine, I have no problem with river crossings (without bridges) but as we got higher the weather deteriorated (again) and the visibility was almost non existent. It was dark at this time so we were all using head torches and even with a guide we did go off the path at one point and ended up doing some ad-hoc bouldering. I found it difficult to keep up with the rest of the group at one point slipped, fell between two rocks and bashed an arm. Luckily there was no major damage but I had to work hard to catch up and nearly lost sight of the rest of the group. It makes you realise that no matter how well prepared you are things can go wrong. At one point I just wanted to stop and cry and for someone (anyone !) to get me off that frickin hill. That, however, was not an option so I took a deep breath and carried on up although the prospect of coming back down the same way was terrifying.
We didn't linger at the top and luckily managed to stick to the path on the way down, it was really hard to spot in the fog and in the dark with head torches, nothing like some of the nice well laid paths and trails you get on the South Downs !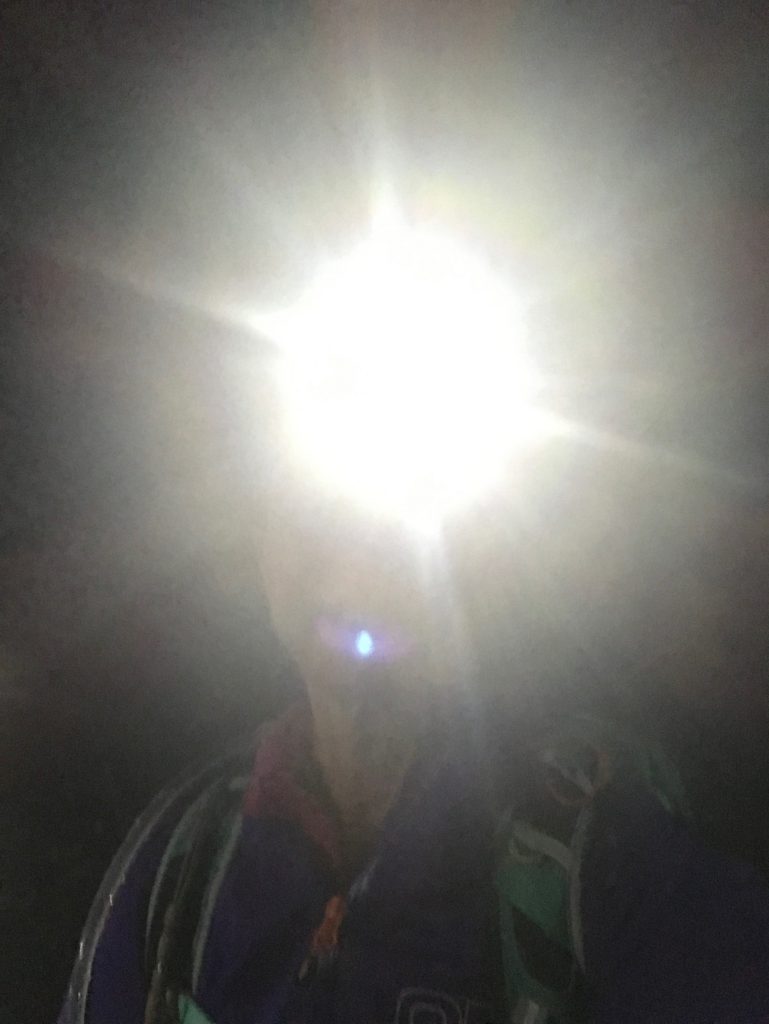 This is the only photo from Scafell Pike. I was just bloomin glad I made it back down alive and in one piece. I'd love to head back up it one day… but in the daylight at a more leisurely pace ! If you look at the Garmin data you can see that it took us nearly an hour to cover one mile at one point….
Last but not least was Snowdon. I had stopped and thrown up with travel sickness by this point and still not eaten anything. We were all sleep deprived and I was REALLY looking forward to getting out of the minibus !
We started our ascent of Snowdon on a Saturday morning in school holidays, not an ideal time and it really is the most "touristy" of the Three Peaks and by this time I was in to the I just want to get this done mode so this will most probably affect my summary of the mountain. Snowdonia is stunning. However who thought that putting a cafe on the top of Snowdon was a good idea should be fired. It was incredibly busy on Snowdon with families out to climb the mountain. I'm all in favour of people getting outside with their children but quite a few were totally inappropriately dressed for the task, children in summer clothes and sandals and the parents without any coats or jumpers for them. I hate to think what would have happened if they had hurt themselves because we still needed our waterproofs at the top even though it was t-shirt weather at the bottom. The following day someone slipped , fell and died going up the same path we had gone up.
Anyway back to the cafe… you get to the top of a mountain, expecting lovely fresh air and all you can smell is deep fat fryers. Enough said. (I was still feeling travel sick..)
23 hrs and 7 mins after starting Ben Nevis I finished Snowdon. Despite the travel sickness, some traffic delays, sleep depravation and not eating for 24hrs.
As you can see I look less than glamorous at the finish…. but I did it… possibly the hardest thing I have done so far.